Accommodation
Call now to check availability on 07903384254

Hurry dates are selling fast!!
We have a variety of rooms to suit every kind of traveller. If you are working or have family in the area, attending a special event, or just enjoying a relaxing break there will be something for everyone. Why not relax in your room and then come down in the evening to enjoy our private hotel bar and restaurant.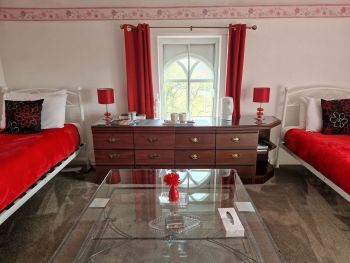 We are very sorry but we do not accept dogs in any of our rooms.
Room Prices below are for each type of room per night
These prices are correct up to 31st January 2024
Need just a bed for the night? Check out our new room only tariffs below.
Please note, our check in is any time after 4:00pm
Earlier check in is available, for a charge of £20.
All early check ins will be subject to this fee.
Double room
B&B £89.00 Room Only £79
Twin Room
B&B £89.00 Room Only £79.00
Single occupancy B&B £65.00
Single occupancy R/O £60.00
Triple room (3 single beds)
B&B £130.00 Room Only £110.00
We require the cost of the first night of any stay, as a deposit when you book. This can be paid by bank transfer, card or cheque and ensures you get just the room you like at the price stated. A bank transfer is our prefered method of payment as we do not need to hold any of your details.
Please note, we do not refund deposits taken to secure rooms.
Unfortunately we do not have camping facilities.